Looking for a going green kids crafts company? Here's a company that gets the Oh! Rubbish! seal of approval (not to mention, many MANY other awards as well).
Green Kid designs and delivers hands-on, award winning, and eco-friendly Discovery Boxes, Creativity Kits, and STEM Science Kits (science, technology, engineering, and mathematics).  You could purchase INDIVIDUAL kits (and there are SO MANY to choose from!) or have your child receive a little surprise in the mail every month with a SUBSCRIPTION PLAN (1 month, 3 months, 6 months or 12 months available).
:: Green Kids Crafts ::
FOR THE SUBSCRIPTION KITS
:: Green Kid Crafts Blog::
What to Expect Each Month from the Subscription Kits
3-4 award winning Creativity and STEM Science Kits (science, technology, engineering, and math) designed by experts to build confidence, flex creativity, and make kids smarter. Look Inside a box to learn more.
All materials and instructions, along with some fun extras!
An exciting new theme, think Outer Space, Kitchen Science, Nocturnal Animals, Backyard Science, Ocean, and Mad Scientist.
Included free for subscribers: Exclusive online collection of additional activities, reading lists, games, puzzles, and more each month, all centered about the monthly theme!
Get ready for our May Detective Science Box which contains SIX award-winning Creativity and STEM Science Kits! In May, your pint-sized detectives will develop problem-solving and observation skills using the same equipment and techniques as real detectives! Projects include a secret message kit, 2 different fingerprint analysis kits, chromatology kit, detective badge kit, and field notebook. (This obviously varies on a month to month basis, so please check their website for this current month's theme).
:: Green Kid Craft ::
Green Kid is offering Oh! Rubbish! blog readers  A FREE TRIAL OFFER! (new subscriptions only!)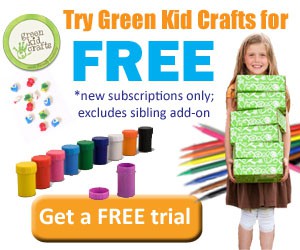 :: Green Kids Craft ::
or take 25% off your first month with code BLOGGER!
---
Once you get your first kit, please come back and share your reviews!!!

:: Green Kid Crafts ::