:: Here's What You'll Need ::
24 pencils (per bouquet)
Flower Pot or Vase
White Card Stock Paper
Brown Decorative Crinkled Shredded Paper
Floral Foam that will fit inside or your pot
Pencil Flower Bouquet Printable
Scissors
Hole Puncher
Ribbon
Glue Stick
Clear Tape
Teacher Appreciation Day POEM Printable
Thanks a BUNCH printable
Bamboo Skewers
:: Here's What To Do::
Print the Pencil Flower Bouquet Printable onto white Card Stock paper and cut out each flower. You will need 24 for one bouquet. Then punch out the center of each flower using a handheld hole puncher (standard size).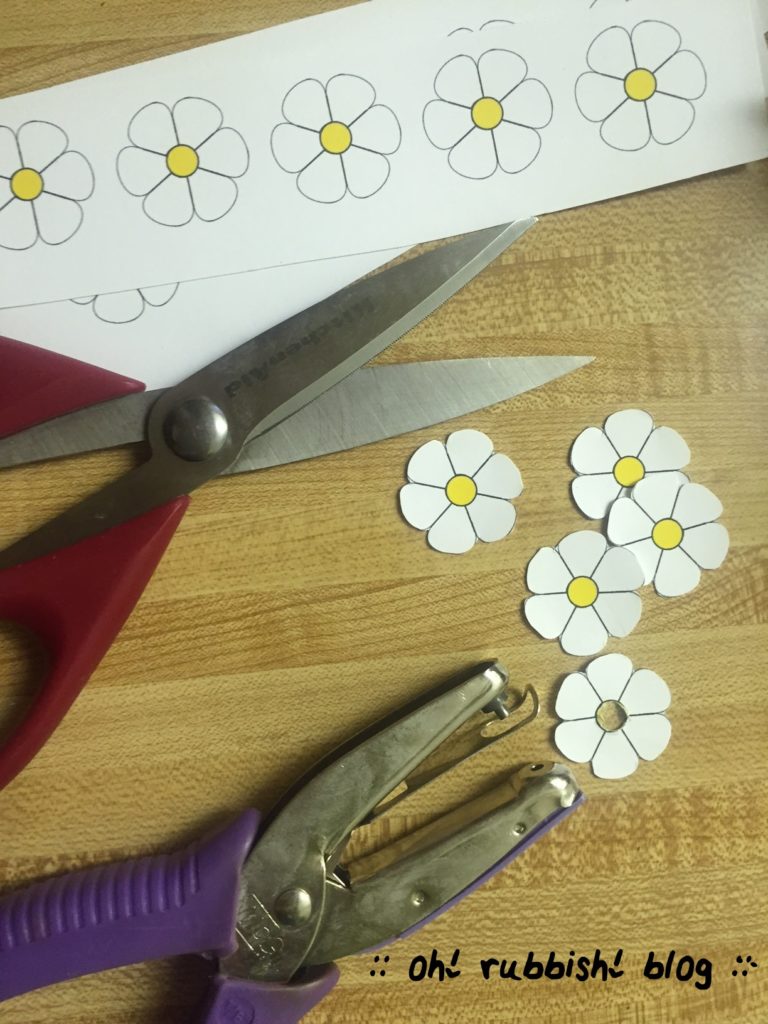 :: Handmade Teacher Appreciation Gift Ideas ::
Make sure all the pencils are sharpened (this will not only be practical for the students and teacher, but it will also help you insert the pencils into the floral foam in the next step). Then, carefully insert the pencil erasers (sort of a twist motion) through the flower centers.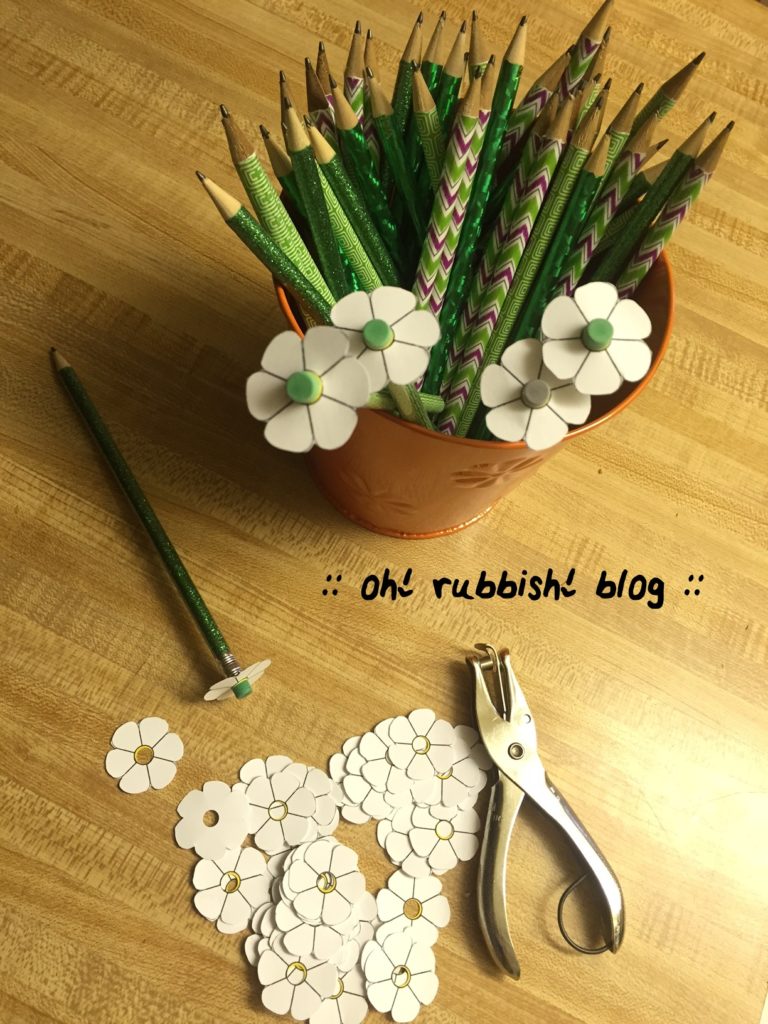 :: Affordable Teacher Appreciation Gifts ::
If you rather not use floral foam, then you will need to use (at least) double the amount of pencils. The picture below is a flower pot filled with 48 pencils and no floral foam. (Note: they do move around more as they are loose in the pot and you can't see the stems).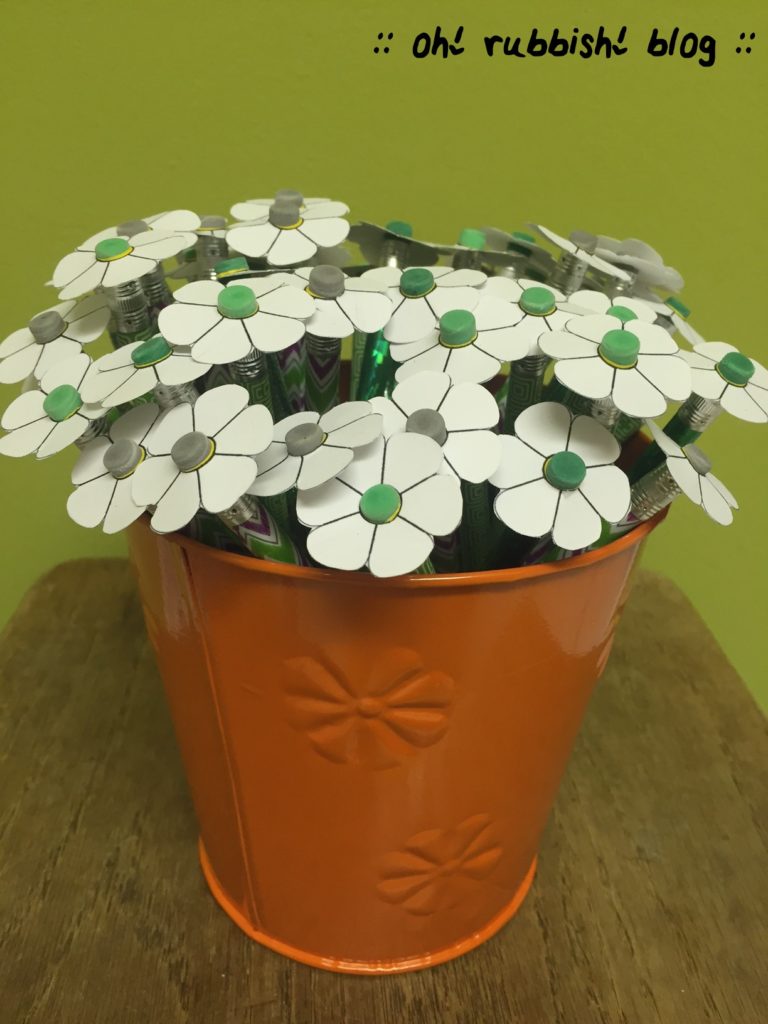 :: Cute Homemade Teacher Appreciation Gifts ::
If you choose to use the floral foam (the pencils stay in place–they might very well make it to the teacher in the same position you put them in,  and you can also see the "stems"). Then, depending on the size of the floral foam you find to fit your vase/flower pot, you might need to add brown shredded paper around the edges to hold the floral foam in place. Use a pencil or dull knife to slide the papers along the edges.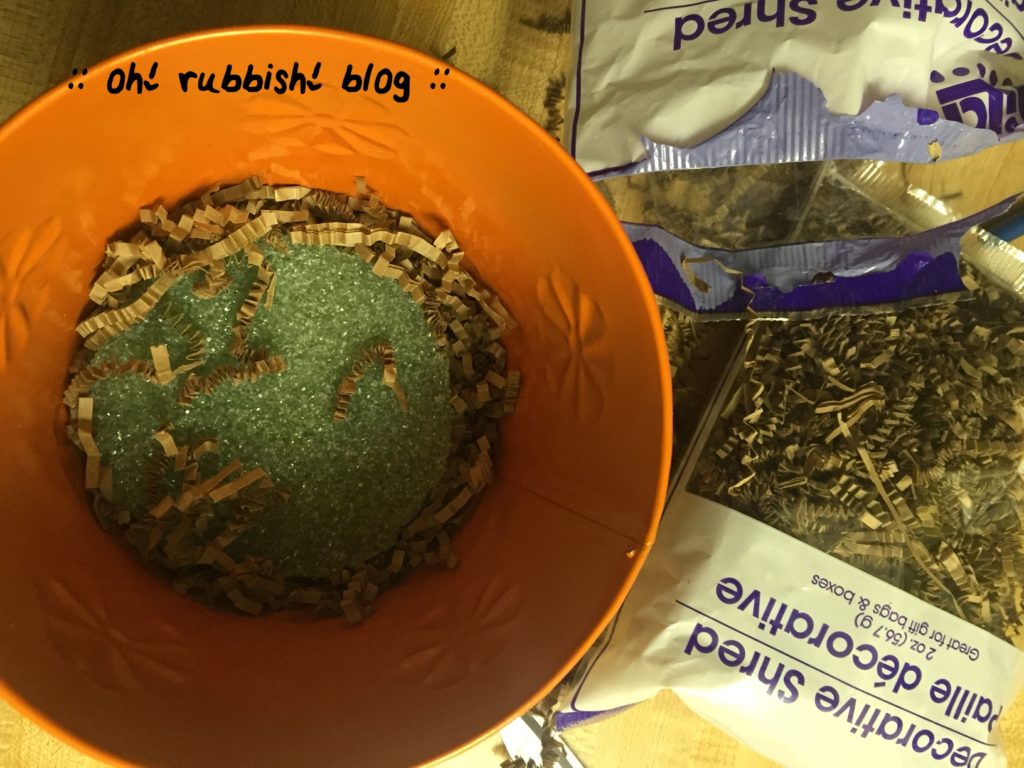 :: Best Teacher Appreciation Gift Ideas ::
Then continue to insert the sharpened pencils with flower toppers into the floral foam. Make sure you alternate patterns of the pencils (if they are different) along with placing them around the pot so that they create a half a bubble look. Depending on the type/quality of your floral foam, some will insert easily, meanwhile some you will need to twist and insert firmly.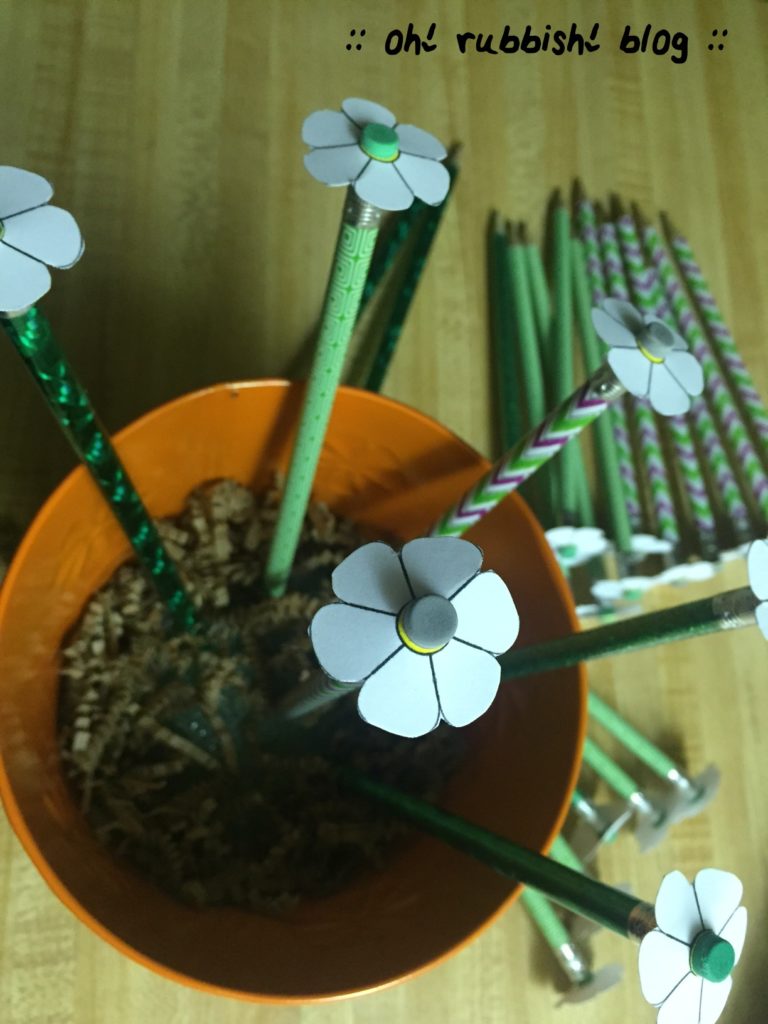 :: Homemade Teacher Appreciation Gifts ::
Then add the crinkled brown shredded paper around and in between all the pencil stems until your vase/flower pot is filled with "dirt". This is what your 24 pencil flowers should look like.

:: Teacher Appreciation Gifts DIY :: Teacher Appreciation Themes ::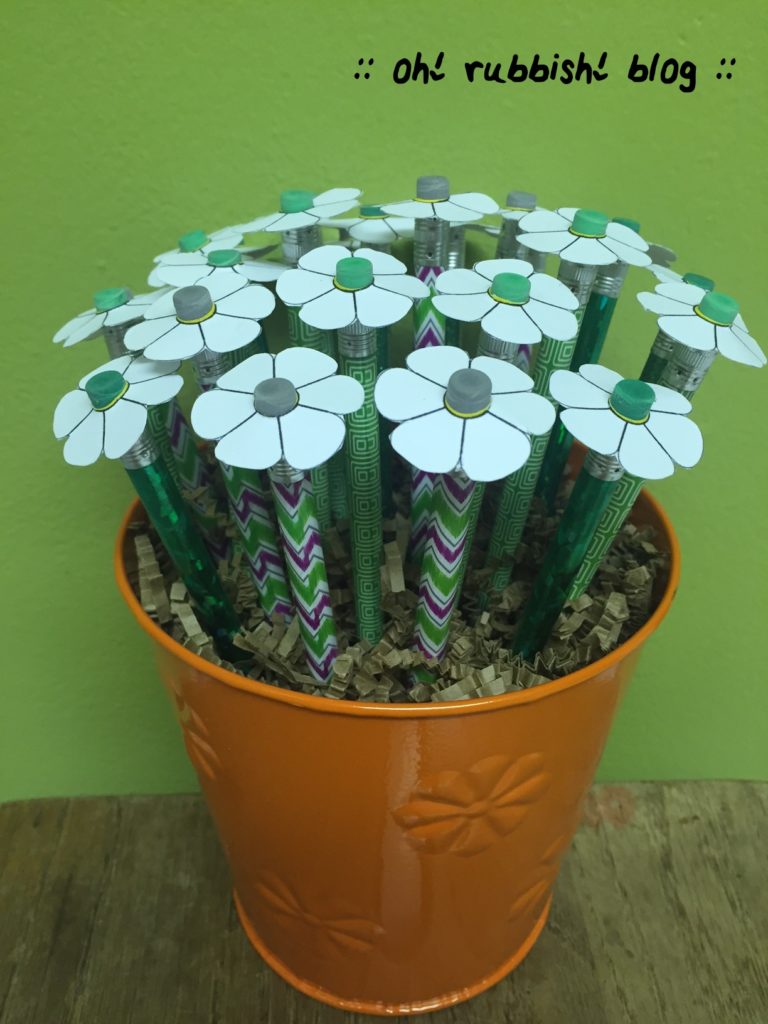 Then, I created a Teacher Poem Printable to include:
"They may forget what you said, but they will never forget, how you made them feel. Happy Teacher Appreciation Day"
Click here for the printable.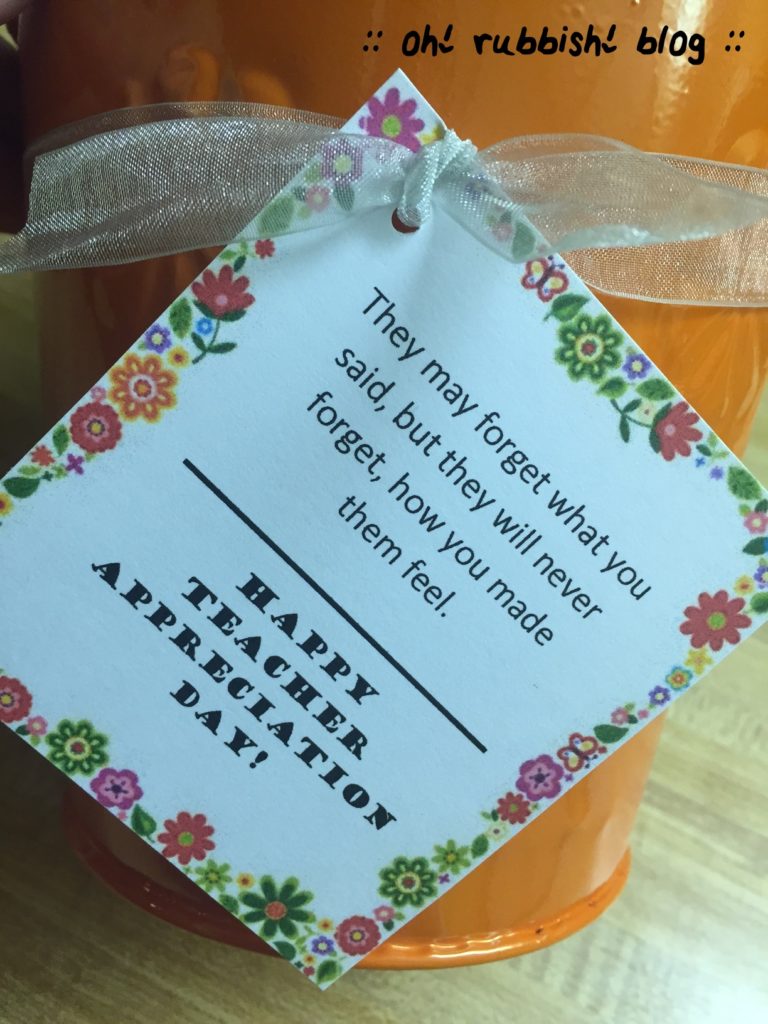 :: Unique Teacher Appreciation Gifts ::
Measure the amount of ribbon you will need to wrap around your pot to tie off, leaving some extra ribbon to still tie a tag. Using a glue stick, glue about three areas where you would want the ribbon to hold in place and then wrap the ribbon around the pot. Allow the ribbon to glue in place. Then place a small piece of tape on the back part of the pot to hold the ribbon in place. Print the poem onto white card stock paper and cut it out. Punch a hole in the top left corner and thread the ribbon through it. Tie the tag in place.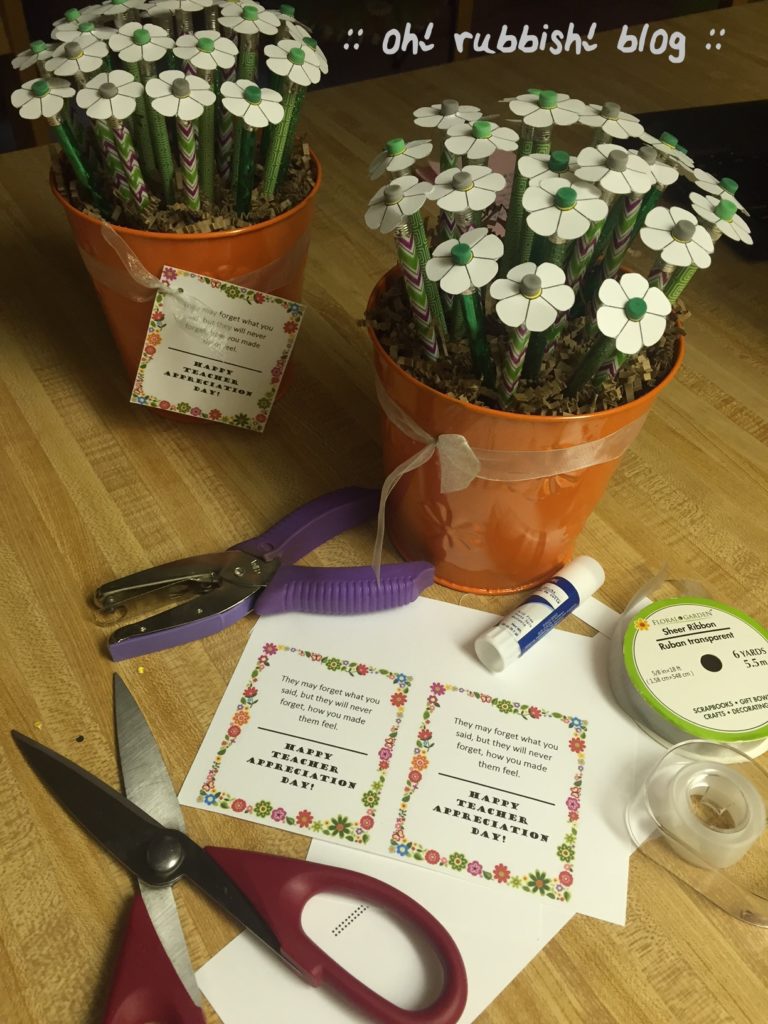 :: Cheap Teacher Appreciation Gifts ::
Here is what the flower pot should like with the teacher poem.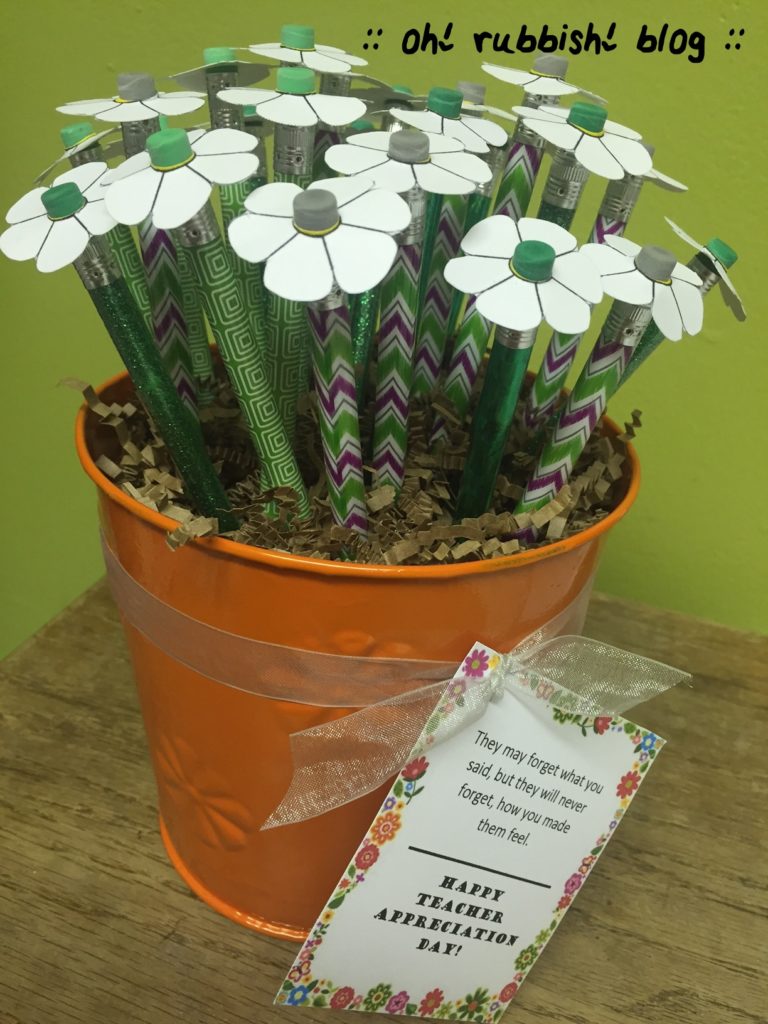 :: Handmade Teacher Appreciation Gifts ::
If you want to add a "THANKS A BUNCH" plant marker to the flower pot, then follow these steps:
Print Thanks a BUNCH printable. Cut out two of them horizontally (leaving them attached. Fold them in half, using a glue stick, glue the entire back area and place a bamboo skewer in the middle (pointy side down). Fold over. This will make a little plant marker to insert into your soil.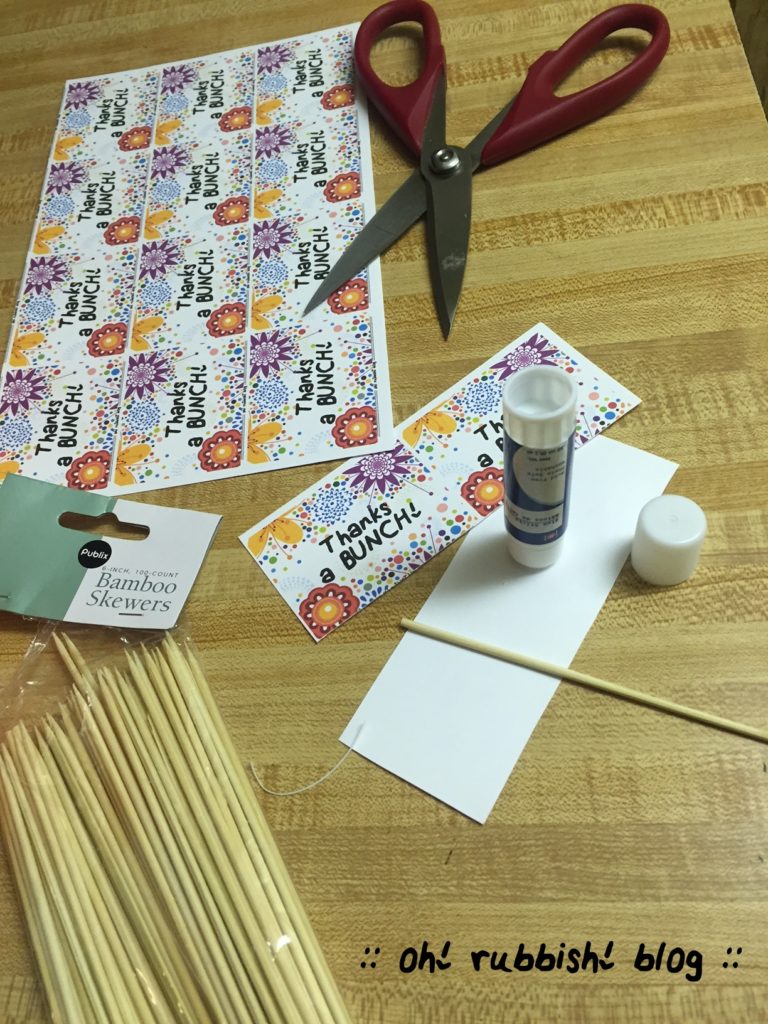 :: Teacher Appreciation Gifts Make ::
This is what your plant marker should look like. And just in case you would like a bigger version of this THANKS A BUNCH printable (4 per page). You can download it here.

:: Affordable Teacher Appreciation Gifts ::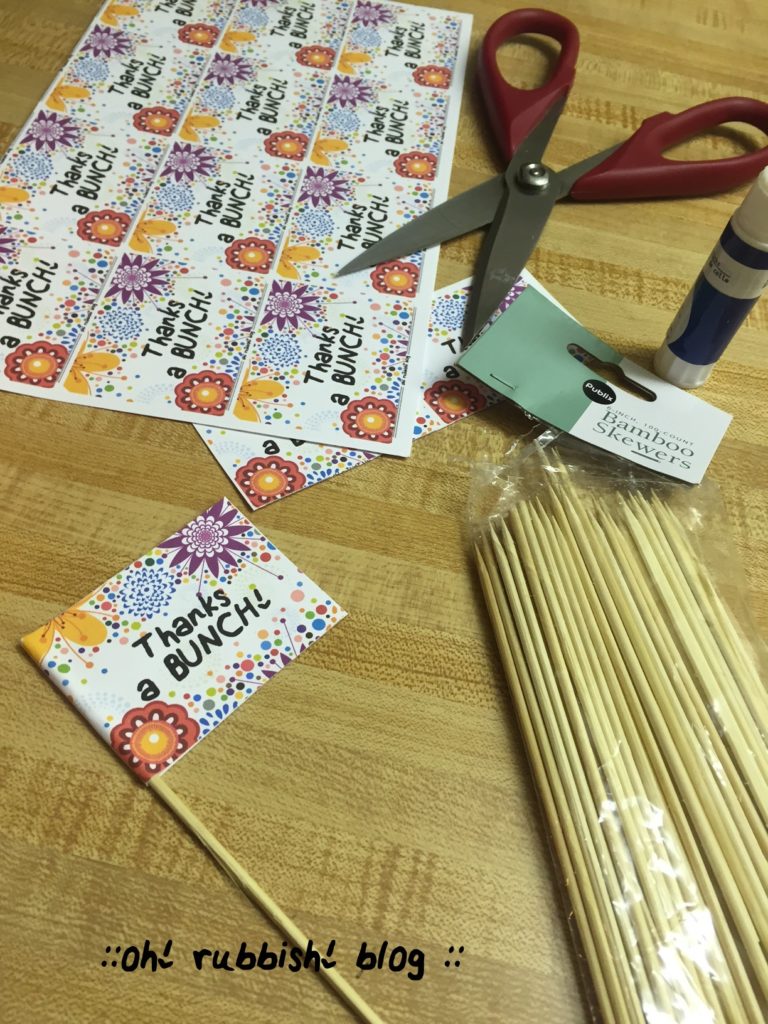 Here is the finished product!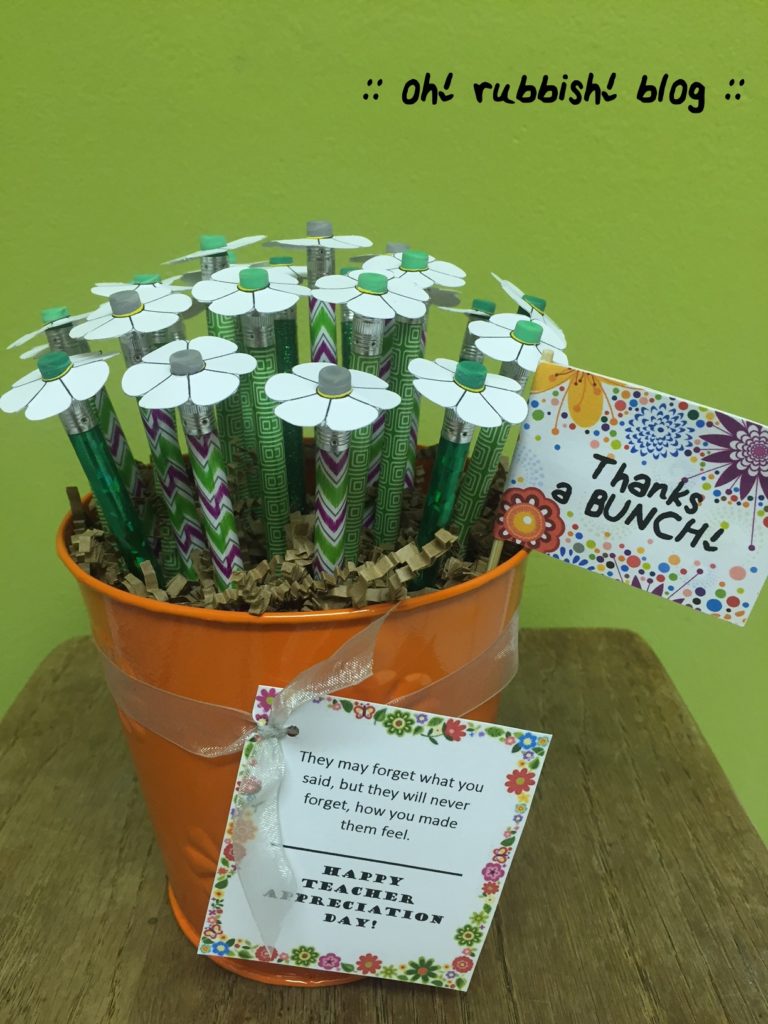 Wishing ALL the TEACHERS OUT THERE….
HAPPY TEACHER APPRECIATION DAY!!!
:: Homemade Teacher Appreciation Gift Ideas ::