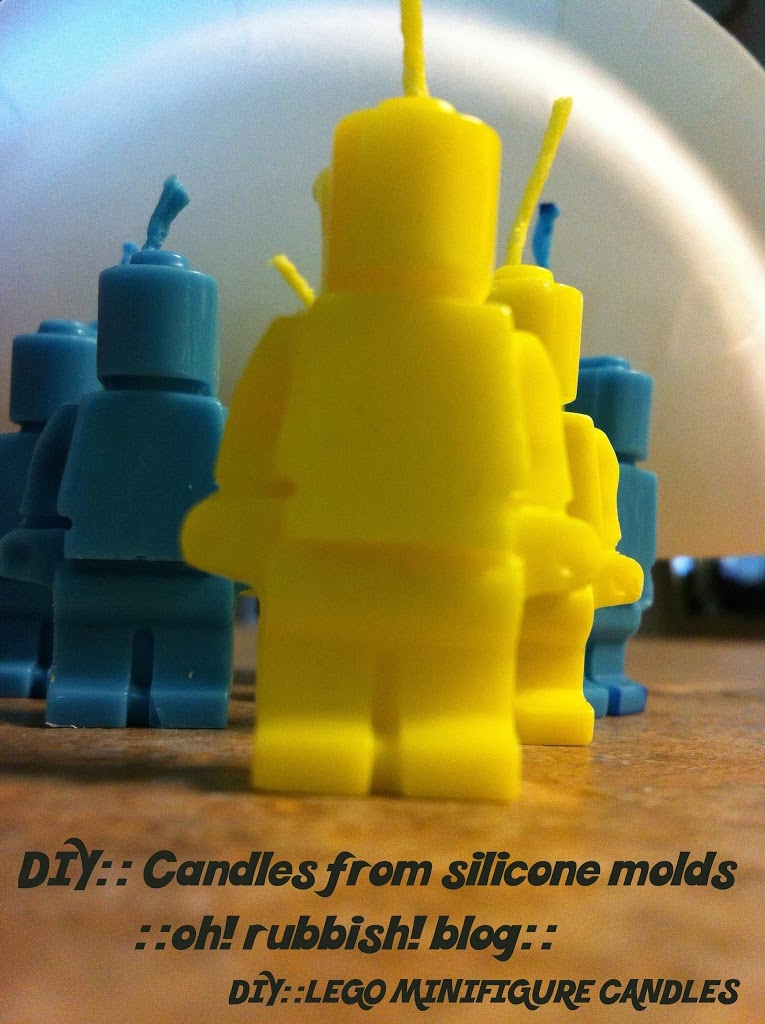 Looking for unique one of a kind Lego candles? Let me show you how you can make them!
All you need is this silicone mold and a box of candles.
First, melt candles in a glass jar in microwave until liquid. BE CAREFUL! The jar gets EXTREMELY HOT!
:: Tips and tricks to clean wax off ::
When you are ready to switch colors or just finished melting a particular color of candle, SIMPLY WIPE OFF THE WAX with a paper towel. DO NOT WET OR ADD SOAP! Alternatively, you can place the jar in the freezer and once frozen, the wax will come right off.
Lego Minifigure Maker for Legos Birthday Cake.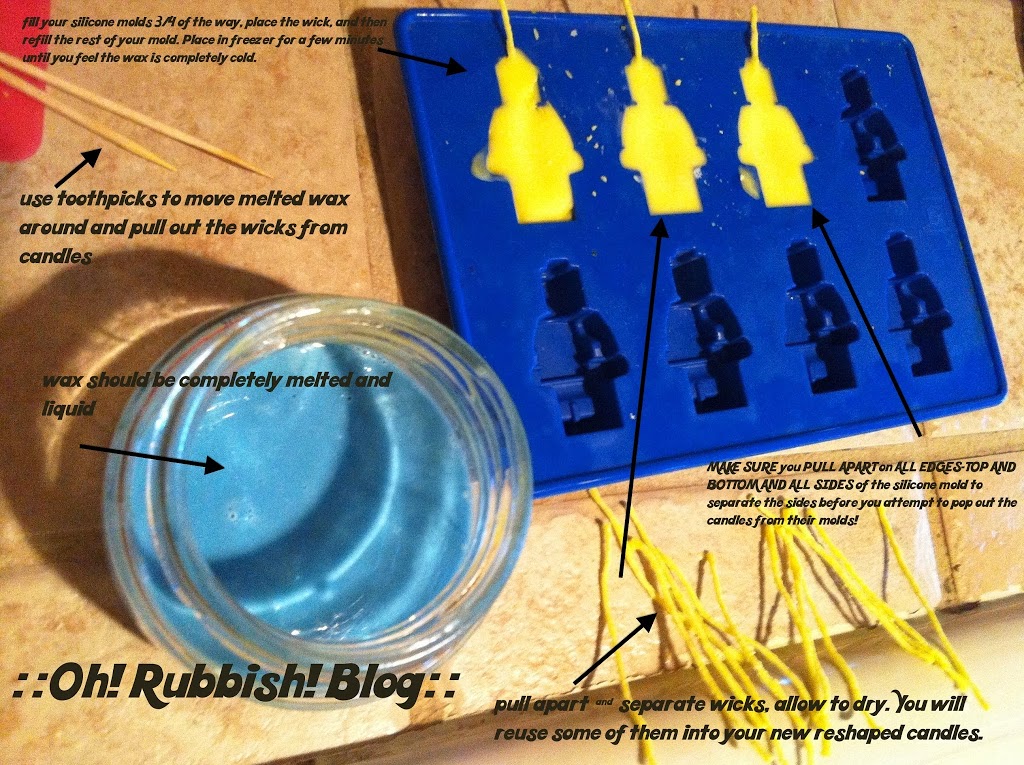 Wax should be completely melted and liquid. Use toothpicks to move melted wax around and pull out the wicks from the melted candles. Pull apart and separate wicks, and allow them to dry. You will reuse some of them into your newly reshaped candles. Fill your silicone molds 3/4 of the way, place the wick and then refill the rest of your mold. Place in freezer for a few minutes until you feel the wax is completely cold and hard. To ensure your minifigure candles come out intact: Make sure you pull apart on all edges of the silicone mold to separate the sides before you attempt to pop out the candles from their molds!
:: Lego Birthday Theme :: Lego Candles Birthday ::   
---
Here are More Ideas for your Lego Minifigure Silicone Molds
Lego Minifigure Candies (melt jolly ranchers in a glass jar and pour into mold to reshape them)
Lego Minifigure Ice for your guests drinks –you can add food coloring too!
Lego Minifigure Jell-o Jigglers (follow the directions on the Jell-o box).
Lego Minifigure Crayons (melt pieces of upcycled crayons –>mix together various colors, layer them like a rainbow or keep them in solid colors).
Lego Minifigure Chocolates (melt Wilton chocolate chips, which come in various flavors and colors, and then pour into mold).
Lego Minifigure Soaps (to be included in children's favor bags or as part of your party day bathroom decorations)
There are even more molds…(including Lego bricks) to change it up as well!
These are dishwasher safe, freezer safe, high heat resistant, non stick, BPA free and FDA approved!