Top 10 Christmas Gifts for Kids
::Recycled Craft Project Kids::
Are you looking for some INEXPENSIVE, DIFFERENT, UNIQUE and COOL gift ideas for kids?
The following are Eco-friendly and Oh! Rubbish! Blog recommendations of the top gift ideas for kids.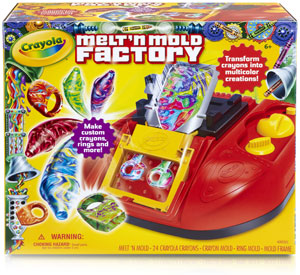 What house doesn't have TONS AND TONS of broken old crayons. Well, if you don't, I'm sure your child's teachers could surely save them for you!  This kits is just perfect for that (although it DOES include 24 crayons!). All you have to do is add your custom combination of colorful crayon bits to the melting tray, then turn it on and watch your crayons melt together. Pour the melted wax into molds to create custom crayons and rings. They DO sell additional molds as well (cars, color spinners, twisted crayons & more!) that will keep you making more! Recycled Arts Crafts.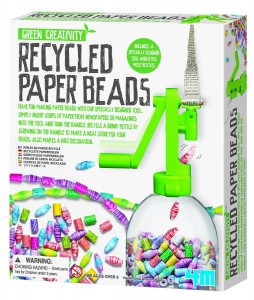 Okay, let's be honest here…this is for adults too! (I actually want one!). This makes making those paper beads so much easier! Kids will love making bracelets and necklaces,  (I want to make a paper bead curtain!)  It's a great product to upcycle all those newspapers, magazines, flyers, scrapbooking papers or just any scraps!  Simply attach a plastic bottle to the tool (the tool and instructions are included), insert strips of paper you have ripped from magazines or newspapers, turn the handle, beads that you have created will fill the bottle. How easy is that? I'll be done with my paper bead curtain in no time!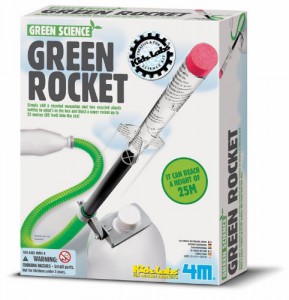 "COOL" is what both my boys said when they saw this one! Just add two recycled bottles and a recycled magazine to this kit and blast a paper rocket up to 80 feet high. Doesn't get easier, funner or more eco-friendly than this!
The kit includes a stand arm, launch tube, flexible pipe, bottle connector halves, pipe clamp halves, foam rocket heads, fin templates, rocket templates, screws, set of small and large nuts, bolts, and washers, double-sided tape, and detailed instructions with fun facts. Recommended for 8 years and up due to small parts. Art and Craft Projects for Kids.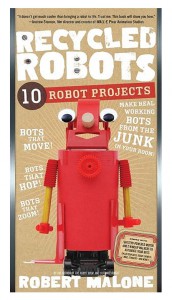 Here is a unique book and kit that shows you how to make ten different robots—that move—out of the most ordinary things from around the house. Created by robot expert Robert Malone, the plans are ingenious and include a materials list,  plus step-by-step directions illustrated with detailed, full-color photographs. The kit includes all the essential accessories: a battery-operated motor and two windup walkers, plus templates, dowels, beads, wire, mounting squares—and googly eyes.
Transform a leftover action figure into Armorbot.  Start with a few paper cups, and presto, Cupbot.  Repurpose cardboard boxes and tubes into the endlessly adaptable Boxbot—it even has a rotating head. From the tiny Hopbot—put it on the floor and you'll see how it got its name—to giant Styrobot, here are ten plans to make a roomful of robotic wonders. Green Science Projects for Kids.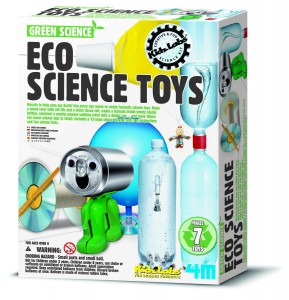 Use everyday waste to create fantastic science toys. Make a speed racer with old CD's and a toilet tissue roll, create a tornado inside empty plastic bottles, construct a gravity-powered walking robot with a soda can…and more (there are seven science toys in total). Includes a 12 page color booklet with full instructions and fun science facts!  This is my kind of kit…a lot of great ideas, in a little box…at a great price!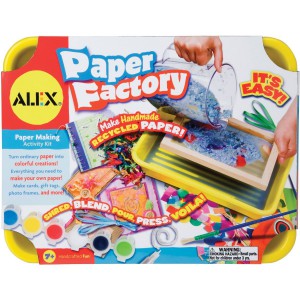 The ALEX Toys – Paper Factory teaches kids how to make handmade recycled paper with this all inclusive kit. Make paper with and without a blender and recycle your own paper to make more! This kit includes a wooden frame, plastic tray, 8-sheets of construction paper, glitter glue, white glue, sponge, (2) plastic sheets, raffia, (6) ribbons, silver glitter, stencil, tissue paper shapes, (6) colors of shredded tissue paper, (6) wooden buttons, resalable bag, (2) no mess gloves and easy instructions. This kit is recommended for children age 7 and up. Recycled Projects Kids.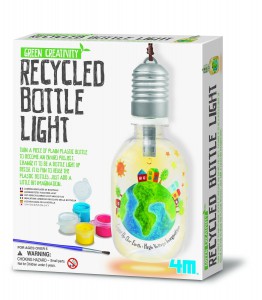 Now with the 4M Recycled Bottle Light Kit  there's more to do with recycled plastics. Add a recycled plastic bottle to this kit to make your own environmentally friendly bottle light and learn about the science behind the light! This science kit includes a plastic light bulb and hanging base, paints, brush, and string. Instructions included. Ages 5 and up.
 Kids Recycle Projects.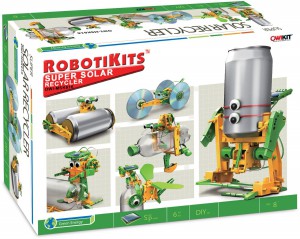 Don't throw away that can! Turn it into a solar powered ROBOT! Turn a plastic bottle into a water worthy solar powered boat.  And repurpose your old scratched CD's into a super cool, solar powered CD Racer! The Super Solar Recycler Kit is powered completely by natural light so you never have to worry about batteries!  How awesome is that?! Everything is included in this kit (solar panel, motor and instruction), but the recyclables. Your kids can make a Street Roller, Walking Robot, Bottle Yacht, Drummer Robot, Flying Bird, or CD Racer! OWI is a brand you can trust with products that make sense!
Kids Recycling Projects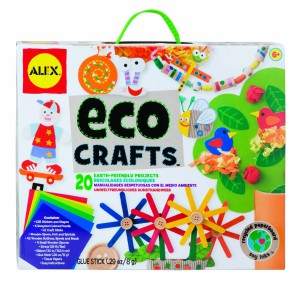 This kit allows your child to create 20 easy crafts with recycled stickers, papers and pencils. Just layer and stick to make puppets, animals and jewelry. Includes 428 stickers and shapes, 6 recycled colored pencils, craft sticks, wooden spoons, fork and spatula, wooden buttons, spools and beads, string, ribbon, glue stick, tissue papers and easy instructions. Made of recycled paperboard and soy ink. Ages 6 and up.
Creative Gift Ideas for Kids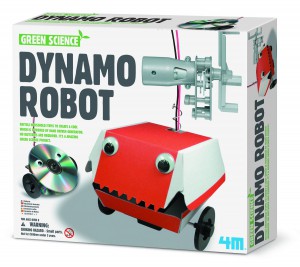 The 4M Dynamo Robot Kit requires no batteries. This robot is made from and powered by recycled household items and the included kit supplies.  Detailed instructions included. Award winning Green Science introduces kids to green concepts such as repurposing, upcycling and alternative energy.
Let me know, in the comments below, if there are any other products that you recommend should be on this list!