Here's the PERFECT Valentine Day gift idea for boyfriend, husband, or significant other! Bottom line is…THIS IS WHAT YOUR MAN (or WOMAN) WANTS on Valentine's Day. PERIOD! The best part, its inexpensive, (you can find most of the items in your house) and it doesn't take much to put it together! Please note, this post is not for the prude, sensitive or immature audiences! You've been warned!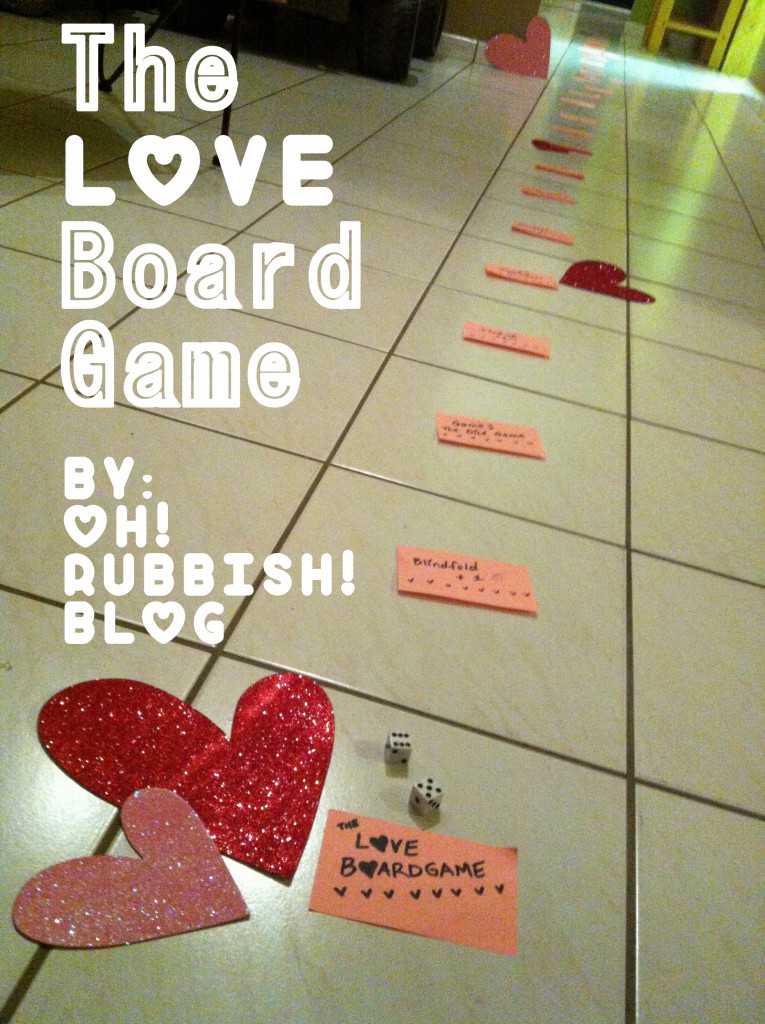 THE LOVE BOARD GAME
:: What You'll Need ::
3″ x 5″  Post-it notepads (or index cards)
Black marker / pen
Pair of dice
Hearts to decorate
Box with a lid
Timer
(The rest of the items depend on what household items you place in the box, see below for ideas)
:: How to Play ::
The set up is easy…you place each notepad/card on each tile (if you don't have tiles, just space them out). Try to alternate your activities so that they don't repeat. You and your partner each take turns rolling one dice to see where you land. Depending on where you land, that's the activity that person must complete. That's it!
:: Valentine Gifts for a Husband :: Valentine Games Adults ::
---
:: Game Card Ideas ::
This game can truly be as simple or as dirty as you want to make it. Feel free to add/delete to make it just right for you guys.
Here are some ideas to get you started:
 :: Valentine Gifts Husbands :: Valentine Party Games Adults :: 
 1- Game: The Dice game
Roll a pair of dice & follow instructions. Match the first dice with the action and match the second dice with the location. Set the timer for 10 seconds.
1. kiss                                                1. lips
     2. suck                                         2. chest
3. massage                                        3. neck
4. lick                                                 4. butt
5. nibble                                              5.crotch
6. stroke                                             6. ears/feet
2- Game: No Hands
Remove article of clothing with tied hands.
3- Game: Touch Test
Rub/stroke item of choice over skin. Guess right and get warm lotion massage. Guess wrong and run ice/popsicle over package(s).
4- Game: Treasure Hunt
Find items around the house that provide pleasure. 2 minutes to find. GO!
5- Game: Spotlight
Lights out. Use mini flashlight on spots you want licked in the dark.
6- Dress or Undress?
Pick if your partner wears something you want them to wear or simply take off an article of clothing.
7- Move up one space
8- Move back two spaces
9- Wild Card (Free Request)
10. Love Position #?
For this one, I used this book, which was based on whatever page you landed on. Makes a great gift too!
 :: Unique Valentine Day Gift Ideas Boyfriend :: Mens Valentines Gifts ::
---

For the following cards, you will need to make 2 lists of items, one for hands and one for lips.
A list of hand items can include warm lotion, warm towel, feather, ruler, bead necklace, clothespin, oil, silk scarf.
A list of lips items can include ice cube, popsicle, honey, powdered sugar, whipped cream, lollipop.
Here you need a scarf or something similar to blindfold and/or tied up your partner.
  :: Valentine Ideas Husband :: Valentine Party Ideas Adults ::
11.  Blindfold +1 (lips)
12.  Blindfold +1 (hands)
13. Blindfold +1 ???? (you pick)
14. Tied up +1 (lips)
15. Tied up +1 (hands)
16. Tied up +1 ???? (you pick)
 :: Valentines Gifts Husband :: Valentine s Party Games Ideas Adults :: Sensual Valentine Gifts Husband ::
---
Feel free to share any other game ideas below!

:: Valentine Games Couples :: Valentine Day Games Adults ::
:: Valentine Day Gift Idea Man :: Unique Valentine Day Gift Ideas Men ::