Whether you're looking for Valentine photo backdrops for a photo booth or for some selfies, or just a simple garland as part of your Valentine window decor (or door!), here's a simple and quick idea that truly is LOVE-ly!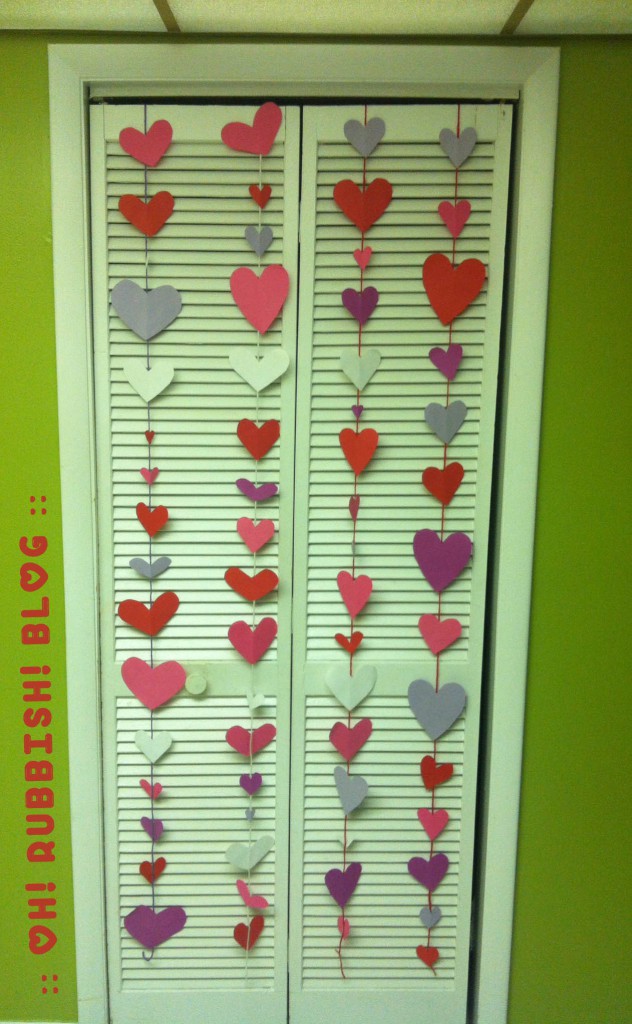 :: Here's What You'll Need ::
Red, pink, lilac, purple and white colored paper
White, red, pink and/or purple yarn or string
Scissors
Clear tape
:: Here's a quick and super easy way to make Valentine garland from hearts :: 
:: Step 1 ::
Measure the length of your window, door or area you want covered. Cut your yarns or strings accordingly. Determine how many strands you would like in order to complete the look you want.
:: Step 2 ::
If you are not comfortable cutting hearts without tracing them first, draw them freehand or trace them using a template on one sheet of your colored papers. Then place several sheets of your colored papers together (make sure they don't slip while you cut) and cut them out.  If you have really good scissors, you can get away with doing more sheets together, if not, just do 2-3 sheets at a time (depending on the thickness of your paper as well). Try to get a good variety of both colored papers and sizes of hearts. The amount of hearts you need to cut obviously depends on how long you want it and how many strands you need (as well as the larger hearts take up more space and the smaller ones less.)
:: Valentine Backdrops Photography Idea ::


:: Step 3 ::

Lay down your strings and begin to assemble your garland my placing the hearts under the strings. Once you're sure you like the way the hearts are arranged, tape them in place. (If you've got sewing skills, then that would be better! But for the rest of us….tape will do!)

:: Valentine Day Backdrop Ideas :: Valentine Garland Hearts :: 

Feel free to share any other Valentine garland ideas you might have!

:: A LOVE-ly idea for your Valentine backdrops pictures ::