The Legoland Hotel states they are a 5 Gazillion Star Hotel!
Are they really ALL that?….no, they are not….they are like a Million Gazillion Star Hotel!
FYI: You WILL get to meet these three COOL guys! These Lego Minifigure characters are usually hanging out in the Bricks Family Restaurant and lobby!
---
Okay…you have FINALLY arrived to the LEGOLAND FLORIDA HOTEL….but you are STILL outside…in awe…taking pictures…because just the outside…is AMAZING! This LEGO DRAGON was created out of more than 445,000 LEGO bricks and each wing spans 8 feet!
The truth is…just with the HOTEL LOBBY…is enough for you to stay there for hours just mesmerizing everything! Behind the RECEPTION DESK is an entire WALL created out of more than 5,000 LEGO MINIFIGURES! If you peer through the tires of the bicycle a LEGO SURFER is riding on…the tires are actually made of magnifying glass.  There is a PHOTO OP with a LEGOLAND HOTEL BED DISPLAY made entirely out of Legos; The middle section of the lobby has columns with Lego pieces affixed to them of which then fall right into a pool of Legos for kids to sit, build and play! And that's just the highlights….
There is also an interactive LEGO CASTLE PLAY AREA surrounded by a LEGO filled moat for kids to explore, run and play; (This is NOT your average hotel…you constantly hear kids laughing and screaming, along with the sound of swooshing Legos.) Adjacent to that is the BRICKS FAMILY RESTAURANT where the BREAKFAST BUFFET IS INCLUDED with your stay. Here you'll find a great variety of options in the ADULT BUFFET section, as well as a KID FRIENDLY BUFFET section too…and YES! it's delicious! This restaurant also opens again for a DINNER BUFFET at 5 p.m. (for a fee). Make sure you're there at 5 p.m., they make a BIG DEAL about opening for dinner. Not only will you get a PHOTO OP with the LEGO MINIFIGURE CHARACTERS in here, but they have TONS of amazing LEGO SCULPTURES inside.
:: LEGOLAND HOTEL ::
The SKYLINE LOUNGE is another option to dine in at the hotel with a beautiful view of a Lego Skyline. If you look up close you will also find…the coolest details!
But….the truth is…there are details ALL over the ENTIRE hotel! From Lego flowers to Lego picture frames, to Lego bathroom signs to Lego elevators and carpets! The details are ENDLESS! True Fact: There are more than 2,000 LEGO models in the entire Hotel created out of more than two million LEGO bricks!
But two super unique features are the DISCO ELEVATOR (where when the doors close, a disco ball turns on, as it plays disco music)–YEP! every time! And a WHOOPIE CUSHION built into the carpet, so as kids await for the elevator to arrive, they can…entertain themselves!
EVERY FLOOR is themed decorated! You will want to stop on every floor to explore! There are FOUR THEMED ROOMS: Pirate, Adventure, Kingdom or LEGO Friends. We stayed in the PIRATE THEMED ROOM where you find from FLOOR to WALL…pirate details everywhere! When they arrived, they had a TREASURE HUNT. They had to solve three questions to get the combination to the Monkey Safe….and inside…was a TON OF STUFF for the kids! From Mixels, to Lego Magazines and Lanyards with activity booklets.
The cute extra details include the kids have their OWN PEEP HOLES at their own level to peep through and a cute POSTCARD on their pillows letting them know their room is MONSTER FREE. As if all these things are not enough…you get an official THE LEGOLAND TIMES NEWSPAPER delivered the next morning! And if you have kids who are using a POTTY…no need to bring one either…their toilets have built in potty seats! Now, who else would think of that?
Kids who are visiting for their FIRST TIME get a button, and if it's their birthday…they get a BIRTHDAY BUTTON too! What's cool about these buttons is that anyone in the Hotel or Legoland Park who sees them wear it, will make a big deal about it!
They have FREE NIGHTLY ENTERTAINMENT for the kids where they come in their pajamas (more for the little ones), but they also have hourly FREE LEGO MASTER BUILDER ACADEMY sessions, where you pre-register at CONCIERGE and the kids get to build their own Lego sets and keep them too (my boys got to build frogs)! They also have nightly LEGO CONTESTS where the kids can enter their Lego sculptures to win! During the summer, on Saturday and Sundays, there are FIREWORKS that can be enjoyed from their BOARDWALK on Lake Eloise. But they wouldn't just be fireworks of course! They provide you with glasses, so as the fireworks blast into the air, you see an illusion of LEGO BRICKS FALLING DOWN!
:: LEGOLAND FLORIDA RESIDENT ::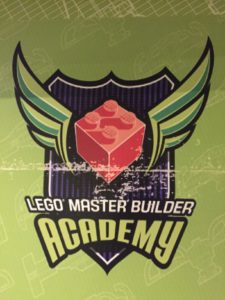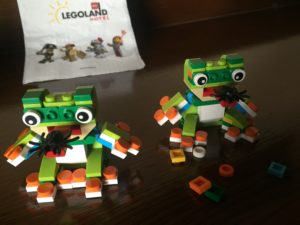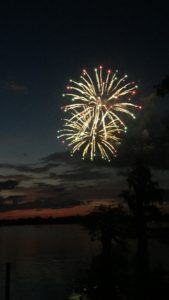 :: LEGOLAND ANNUAL PASS FLORIDA ::
And the POOL is just SO cool…it has FLOATING LEGO BRICKS…where you can…of course…build while you're playing in the water! You can also order food and drinks from the Skyline Lounge while hanging by the pool! There is also a little area where kids can SPLASH with water too!
:: LEGOLAND ANNUAL TICKETS ::
And the BOARDWALK behind the Legoland Hotel…has it's little surprises as well! Hidden Lego sculptures!
But one of the MOST CONVENIENT things this Hotel has…is that it's LITERALLY located 130 kid steps from the main entrance of the LEGOLAND Florida Theme Park. Not only is this awesome for when you are SO tired and want to get back already, but it's perfect to go back to your hotel, shower, have dinner and then go back for the FIREWORKS at night! And hotel guests, get BONUS BRICK TIME, which means you are allowed to enter the park 30 MINUTES EARLIER before it opens to the public.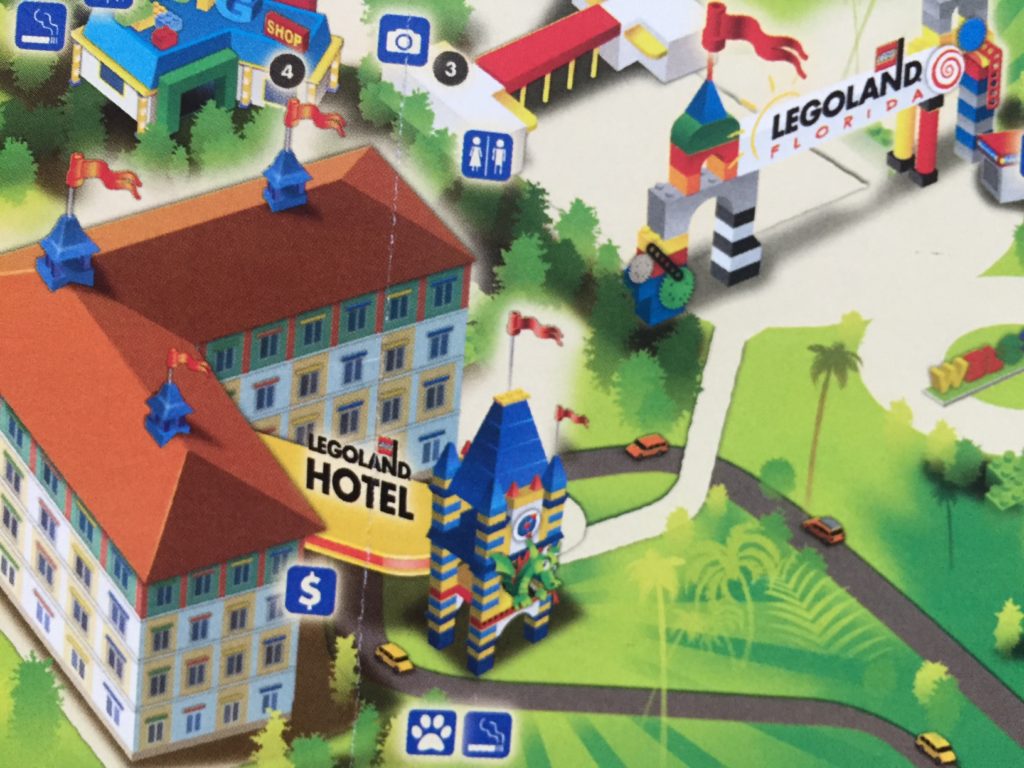 TIPS: If you're kids are planning on coming…MAKE SURE THEY BRING any LEGO MINIFIGURES that they would want to trade. Kids can purchase or bring LEGO Minifigures to trade with LEGOLAND Model Citizens (that's a fancy term for employees) throughout the resort. Most Model Citizens wear at least one Minifigure on their brick badge (name tag) and are happy to trade. There is also a MINIFIGURE TRADING POST in the park…during selected times, where the kids have a much wider selection of Lego Minifigures to choose from.
:: LEGOLAND ANNUAL PASS DISCOUNT FLORIDA ::
We actually purchased the Legoland Annual Awesome Passes. For $99 per person, we got Unlimited Admission to LEGOLAND Florida and LEGOLAND Water Park. PLUS, 10% off Dining, Retail, LEGOLAND Hotel Stays, VIP Experiences and Premium Play Bands. This AWESOME PASS also entitles you to Bonus Brick Time (9:30 am park entry) and $15 off Guest Tickets to LEGOLAND Florida (up to 6). This deal STILL comes out CHEAPER even with the KIDS GO FREE coupon (if you're planning on attending for at least 2 days)!
To compare the other Annual Passes, click here.

---
SO the truth is..
Are they worth the 5 Gazillion Star Rating?

5 Gazillion Percent they are!
---
If there is "THE HOTEL" you need to stay at….it's THIS ONE! And if you're planning on going to the Legoland Hotel or Legoland Florida Theme Park…you'll want my printable countdown! Check out my post here.


This hotel has been THE BEST KIDS HOTEL EVER!
Wondering…what other hotel is up for the challenge?
Any suggestions?