CALLING ALL


If you're planning a DC Super Friends Party, or even a super heroes themed party, then you'll want to read the following games and activities! You're guests will leave feeling like they do have SUPER POWERS!

:: Superhero Birthday Party Ideas ::
The Joker is at it again! He's managed to switch and mix up everybody's super powers! (So Superman can't fly, but he can run fast like flash and Flash can't run fast, but he has X-ray vision.) But don't worry, we've got POWER RINGS, POWER CUFFS and POWER DROPS to help you get whatever super powers you need. Make sure you are all on the lookout, because if you hear an alarm, that usually means your powers are getting switched and someone needs your help!
MAKE SURE YOU PROGRAM AND CONFIGURE A CONTROL PANEL! THIS WILL GIVE YOU ANY EXTRA POWERS, WEAPONS AND EVEN VEHICLES YOU MIGHT NEED! (As your guests arrive, explain the scenario above and have them "program and configure their own control panels". This is a great activity to entertain your guests while you wait for the remaining guests to arrive.)
:: Superhero Party ideas ::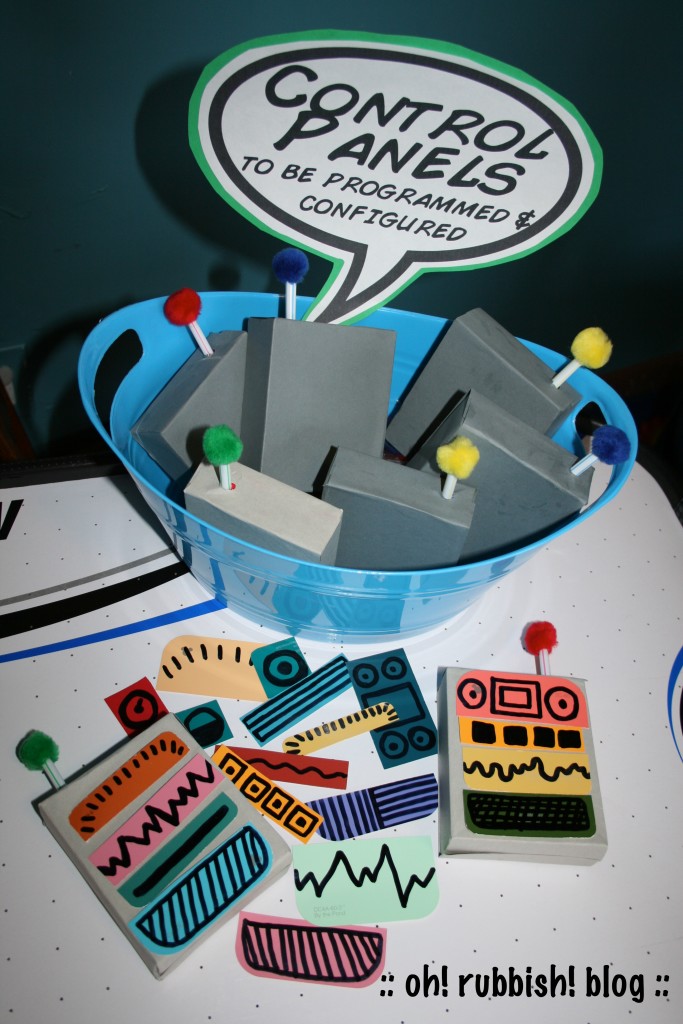 :: What You'll Need ::
upcycled large Jell-o boxes
upcycled paint chips/color samples
straws
pom-poms
black permanent marker
hot glue gun
glue stick
gray construction paper
hole puncher
scissors
:: Lego Superhero Party Ideas ::
:: What You'll Do ::
To make these, you need to use upcycled empty Jell-o boxes (one per guest).  Before you re-glue the open flap down, use a hole punch to make a hole on the left side of the box (see picture). Then cover the boxes in gray construction paper and re-punch the hole you previously cut out, glue all in place. Insert the straw in the hole, decide how tall you want your antenna, then cut accordingly and hot glue gun the pom-pom on top. This is how you will leave them for the guests to decorate.  Then using paint chips and a black permanent marker, make designs like pictured below, and cut apart, so that they can decide which they would like to add to 'build' their control panels.  For the party, all they need to do is glue on the control panel features to their control boxes.
:: DC Comics Party Ideas :: Superhero Birthday Party Ideas Boys ::
---

Let's Get This Party Started!


AN ALARM WILL SOUND BEFORE EACH CHALLENGE (PHONE APP WITH SPEAKERS). THE JOKER (MASK WEARING RELATIVE) WILL CAPTURE A PRISONER (PARTY GUEST) WITH A HOOLA HOOP!
---
:: Superhero Theme Party Ideas :: DC Super Friends Birthday Party ::



HOLY KRYPTONITES!
BE CAREFUL SUPER FRIENDS, THE JOKER HAS DROPPED TONS OF KRYPTONITE! DO NOT TOUCH THEM WITH YOUR HANDS. EACH OF YOU MUST PICK UP TWO KRYPTONITES WITH THE STICKS AND PLACE THEM SAFELY IN THE BUCKET/BASKET. COMPLETE THIS TASK SO THE JOKER WILL RELEASE THE PRISONER! (For this challenge, I filled a bucket with crumbled lime green construction paper and chopsticks)
:: Superhero Party Ideas Kids :: DC Super Friends Party ::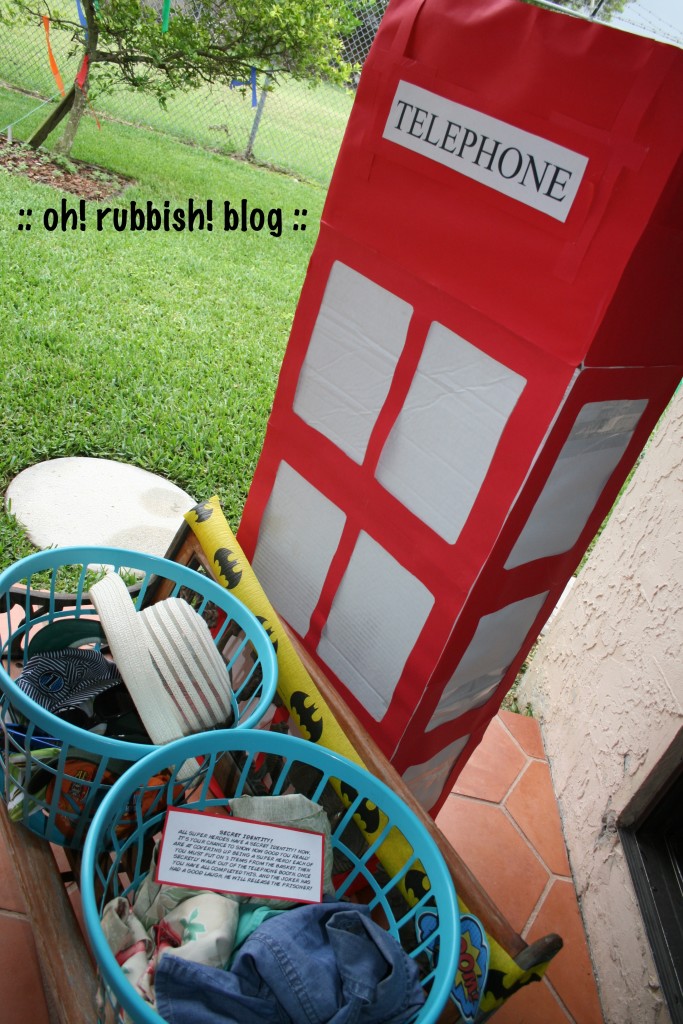 SECRET IDENTITY!
ALL SUPER HEROES HAVE A SECRET IDENTITY! NOW, IT'S YOUR CHANCE TO SHOW HOW GOOD YOU REALLY ARE AT COVERING UP BEING A SUPER HERO! EACH OF YOU MUST PUT ON 3 ITEMS FROM THE BASKET, THEN SECRETLY WALK OUT OF THE TELEPHONE BOOTH (BEHIND A CURTAIN/OUT OF A ROOM). ONCE YOU HAVE ALL COMPLETED THIS, AND THE JOKER HAS HAD A GOOD LAUGH, HE WILL RELEASE THE PRISONER!  ( For this challenge, make sure you include hats, sunglasses, over-sized shirts, shorts, pants, bandannas, jewelry, robe and/or props that the guests could easily get in and out of. For the telephone booth, I used an upcycled refrigerator box, white and red construction paper, cut and glued to look like the Superman phone booth.)
:: Superhero Party Favors Ideas ::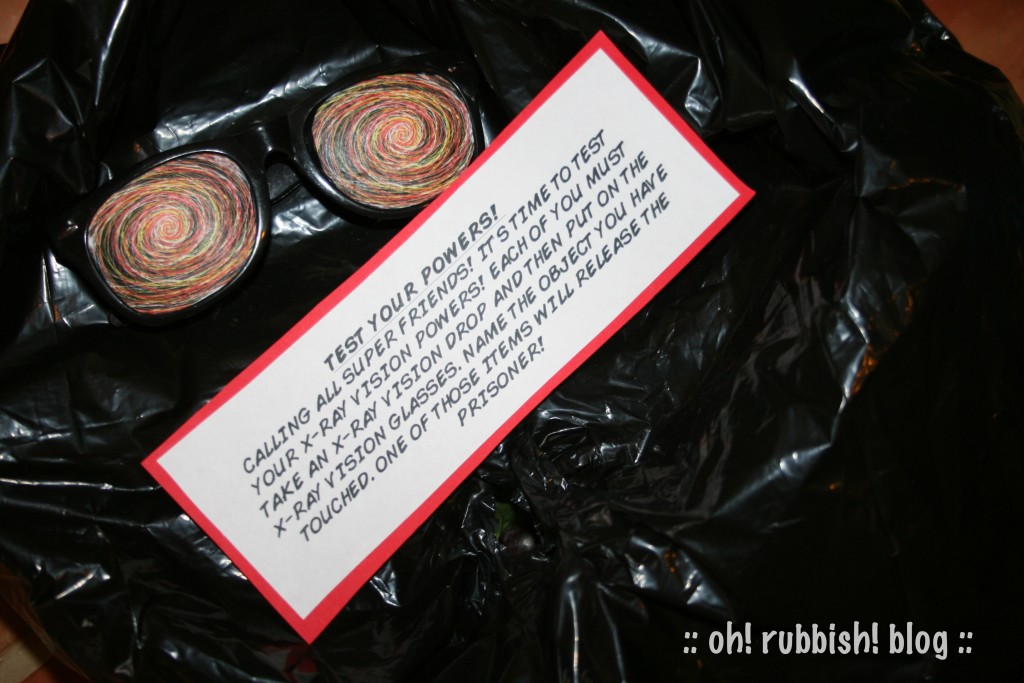 TEST YOUR POWERS!
CALLING ALL SUPER FRIENDS! IT'S TIME TO TEST YOUR X-RAY VISION POWERS! EACH OF YOU MUST TAKE AN X-RAY VISION DROP AND THEN PUT ON THE X-RAY VISION GLASSES. NAME THE OBJECT YOU HAVE TOUCHED. ONE OF THOSE ITEMS WILL RELEASE THE PRISONER!  (For this challenge, get a box and fill it with random items that they will have to try to figure out what they are by touch. Cover the box with a black garbage bag, tape in place and make a hole on the top by cutting an X with scissors. This will allow the kids to put their hands in without being able to peek inside. For the X-Ray vision glasses, you can purchase these or make your own. When they have all had a turn, the last item will be the one that will make the Joker release the prisoner.)
:: Superhero Party Ideas DIY ::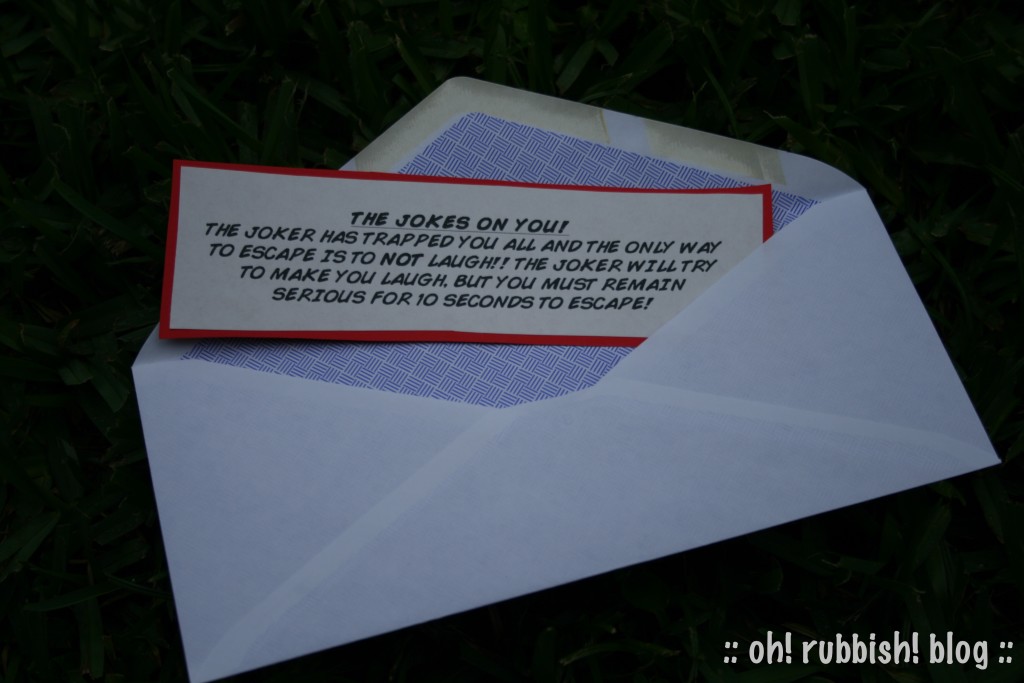 THE JOKES ON YOU!
THE JOKER HAS TRAPPED YOU ALL AND THE ONLY WAY TO ESCAPE IS TO NOT LAUGH!! THE JOKER WILL TRY TO MAKE YOU LAUGH, BUT YOU MUST REMAIN SERIOUS FOR 10 SECONDS TO ESCAPE!
:: Kids Superhero Party Ideas ::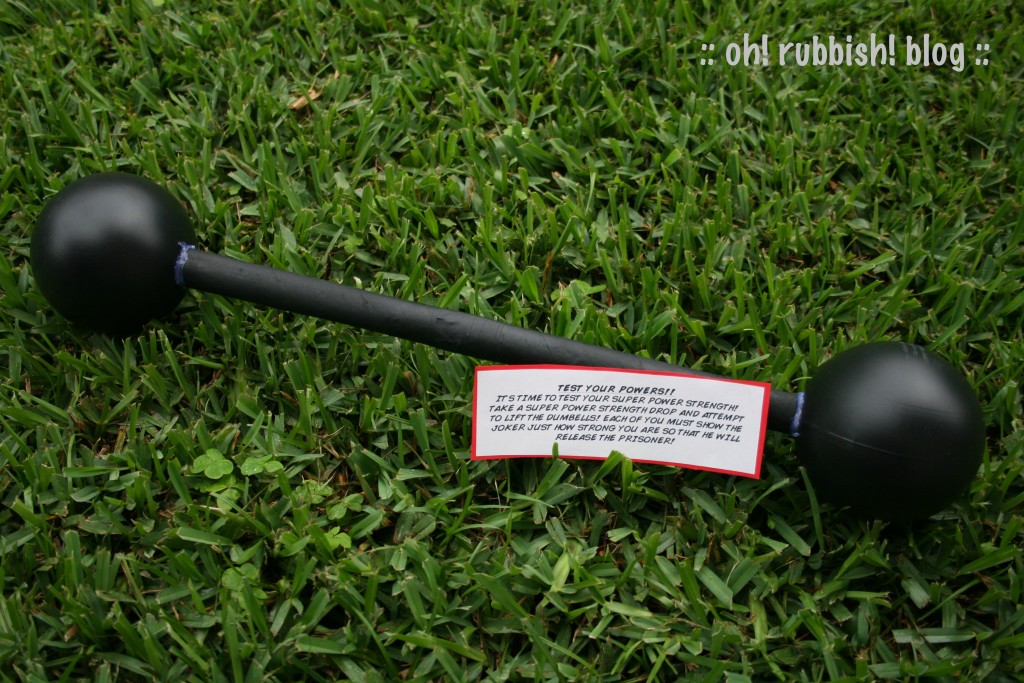 TEST YOUR POWERS!!
IT'S TIME TO TEST YOUR SUPER POWER STRENGTH! TAKE A SUPER POWER STRENGTH DROP AND ATTEMPT TO LIFT THE DUMBBELLS! EACH OF YOU MUST SHOW THE JOKER JUST HOW STRONG YOU ARE SO THAT HE WILL RELEASE THE PRISONER! (You can purchase toy dumbbells or make them yourself. I used dollar store balls from a ball and chain costume prop and hot glued them to a black spray-painted paper tube.)
 :: Superhero Party Ideas Decorations ::
3, 2, 1…ACTION!
WHEREVER A SUPER HERO IS…THERE IS ALWAYS ACTION! AND THE JOKER THINKS YOU DON'T HAVE WHAT IT TAKES TO DEFEAT HIM! USING THE 'ACTION SIGNS', SHOW THE JOKER JUST HOW YOU WOULD DEFEAT HIM! THIS IS YOUR FINAL CHANCE TO GET RID OF HIM ONCE AND FOR ALL!  (For this challenge you need to print actions words like POP! POW!, BAM!, BOOM! (just google them–b/c I didn't make them), glue them onto construction paper/cardboard to make them sturdy and attach chopsticks or skewers.
:: Superhero Party Decorations Ideas :: DC Comics Birthday ::
AFTER EVERYONE HAS HAD A CHANCE TO USE THEIR PROPS AND TAKE ACTION PICTURES, THE JOKER WILL RUN AWAY…AND SAY "YOU WILL NEVER GET AWAY WITH THIS…SUPER FRIENDS!" HE LEAVES WITH A BANG! (BOTTLE ROCKET FIREWORKS & FIRECRACKERS!)
:: Ideas Superhero Party ::
---
Looking for MORE SUPER HERO PARTY IDEAS?


—



Check out this post for more party ideas!
Check out this post and this post for party favors!