CALLING ALL SUPER FRIENDS!
Look no further, if you're planning a DC Super Friends Birthday Party or simply looking for Superhero Theme Party Ideas! I've got you covered!
Mission Control Center
Mission Control is a great place for the kids to come and hang out (especially before and after the party main events). I placed ours up in the tree house. I opened and flattened upcycled cardboard boxes–so that they are long and rectangular. I then printed and cut out the images below (note–I do not own these images) and laminated them with clear Contact paper. You can add a reflector buttons too! The rest is up to their imagination!

 :: DC Super Friends Party :: Lego Superhero Party Ideas :: 
---
 
D.C. Super Friends Superhero Pops
All you need to make these DC Super Friends Lollipop Favors are the printable provided below and Charms Blow Pops (with the top wrapper taped back). To assemble these, print the printable provided on card stock and cut each out. For the capes, use a small hole puncher to be able to slide the cape through (if the hole is made too large accidentally, just place a small piece of tape on the bottom side of the cape & stick). Then, wrap the masks around the lollipops and tape in place.
:: Super Party Favors Ideas :: Superhero Party Ideas DIY ::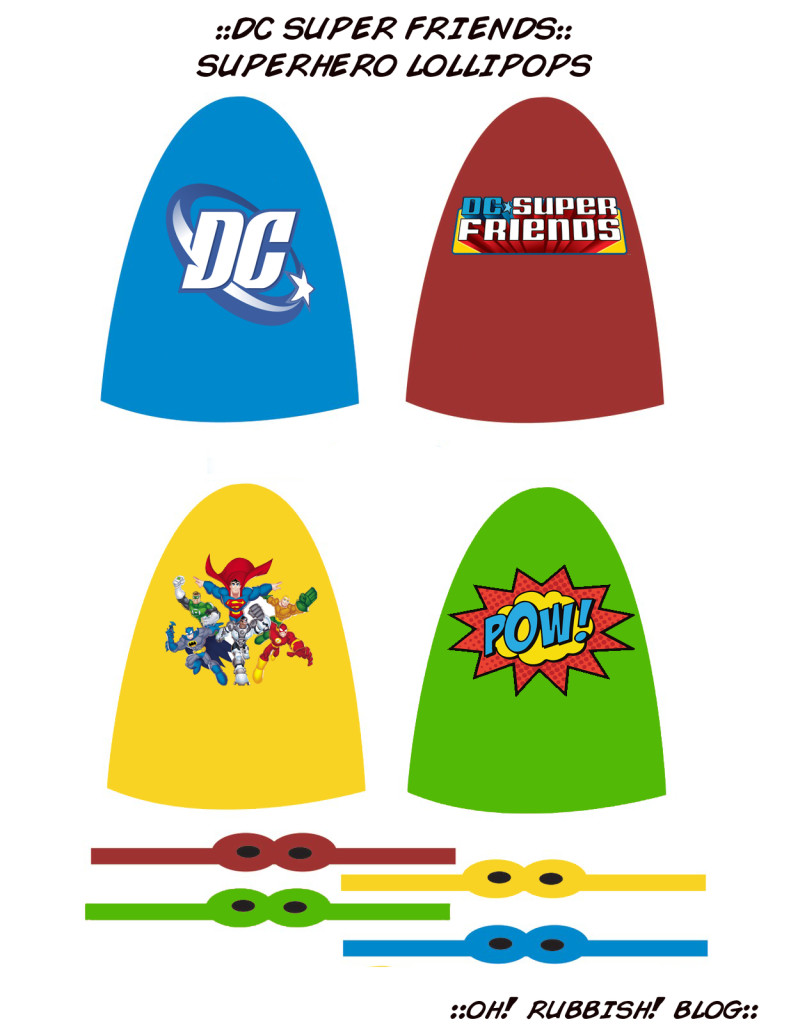 ---



Superhero Skyline
This idea is great as a backdrop, as props and for decorations. The kids used them to take pictures like they were flying through the sky as well as climbing on them and knocking them down. To make these all you need are upcycled cardboard boxes taped shut, spray painted black and then gluing yellow Post-its as windows. You can use different sized Post-its or cut the larger ones into smaller pieces.
:: Superhero Party Ideas :: DC Comics Party Ideas ::
---
 
 Jet Packs
To make these jet packs, you need upcycled plastic containers. The SmartWater bottles are great for the thinner and longer look and the 2L soda bottles are great for a bigger and wider look.  All bottles were cleaned and dried, then spray painted with black spray paint. Make sure your spray paint can be used on plastics. (I applied a couple of coats to make sure–make sure to completely dry in between coats.)  Using red, orange, yellow and white tones of felt and tissue paper, I cut jagged/wavy lines from both. I then arranged a mix of colors of both the felt and tissue paper, tie them up together, placed hot glue gun on the inside of the bottle opening and glued in place. To be able to attach the straps: First, use a child (more or less the age group that will be using these) and measure the length of the straps, so that its not too tight to put on, but not so loose that it will hang too low. Then, cut strips of cardboard the size of the jet packs length, spray paint them black (allow them to dry), then hot glue them on one side of the jet pack with the black straps (yarn) underneath (see picture above). Keep in mind you can make single jet packs and double ones as well.
:: Superhero Party Ideas Decorations :: Ideas Superhero Party ::
---
  D.C. Super Friends Place Setting
I used these Keepsake DC Super Friends plates and cups for my guests place setting. As napkin rings, I cut strips of upcycled DC Super Friends comic book pages to place around the napkin and tape in place. Each guest, of course, was able to keep their own plate and cup as a souvenir party favor. You can also purchase the disposable cups, small plates,  large plates or complete set, as well.
:: Superheroes Party Ideas :: Superhero Party Decorations Ideas ::
---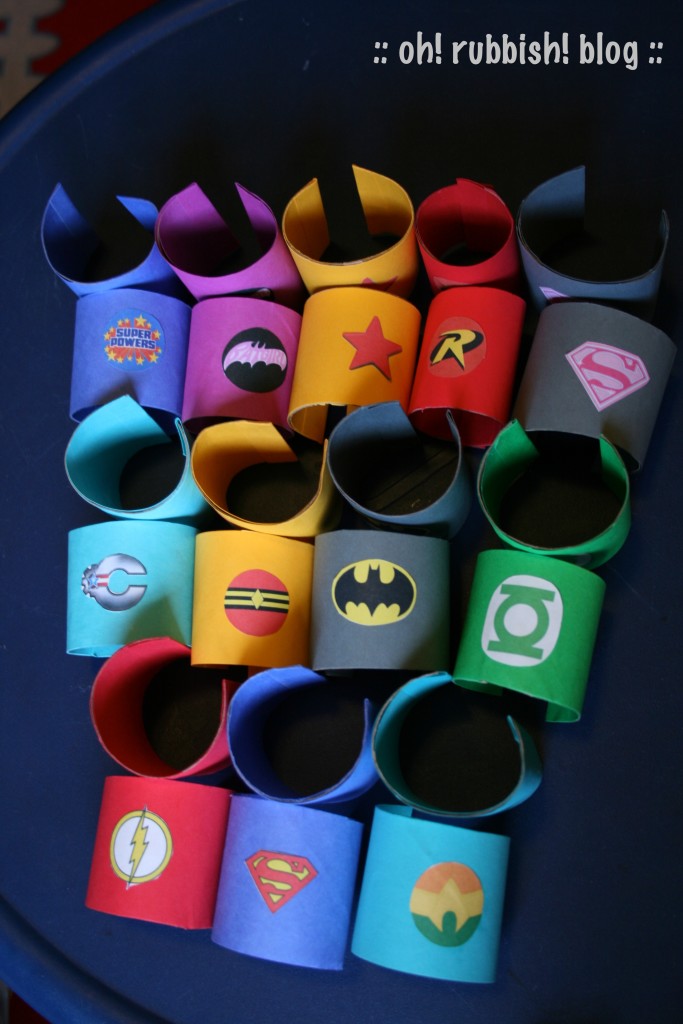 Superhero Power Cuffs
To make these power cuffs you need to save and stock up on toilet paper and/or paper towel roll tubes. Cut the toilet paper tubes in half (so now you have 2 pieces) and then snip them across, so they open up like cuffs. I then applied glue on both sides and glued on my colored card stock on both sides. (In places like Miami, where there is humidity, thickness counts, you want them to lock onto your wrists, not get soggy and fall off). Then cut out the Superhero symbols (provided below) and glue in place. To allow the cuffs to dry in their original shape, I placed a paper clip to hold them in place.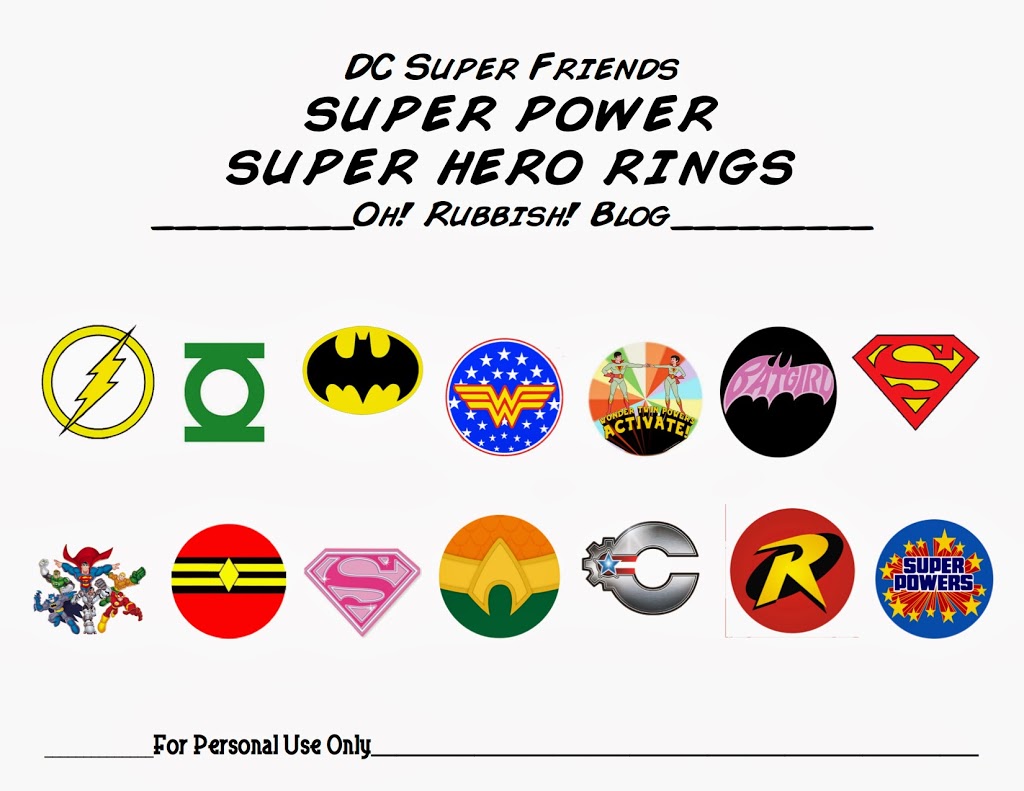 :: Kids Superhero Party Ideas :: Superhero Birthday Party Ideas Boys ::
---
 Upcycled Comic Book Bunting Banner
If you don't already have DC Super Friends comic books, you can get them here. To make these, please check out this post for detailed instructions.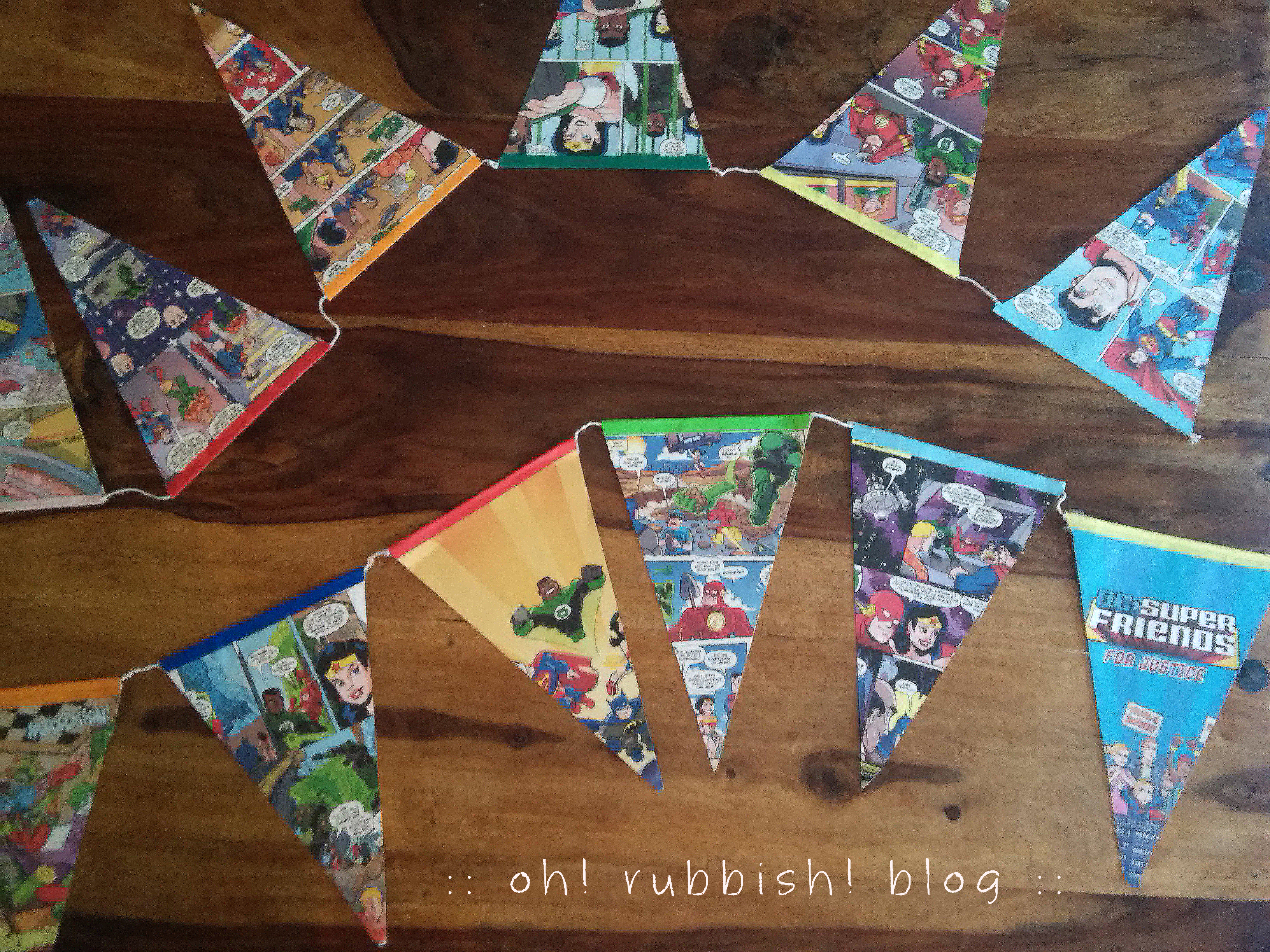 ---

Looking for MORE SUPER HERO PARTY IDEAS?
Check out this post for Party Games & Activities!
Check out this post and this post for Party Favors!

:: Superhero Party Ideas Kids ::